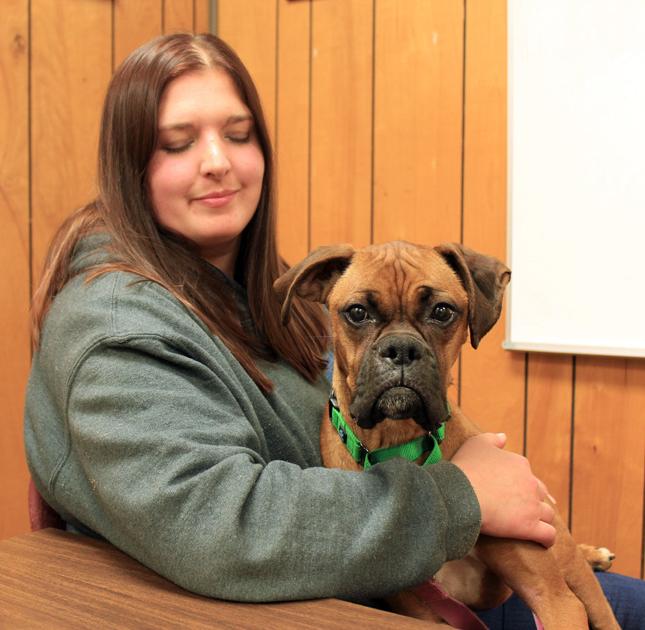 Animal lovers give care to rescued dog, survey | Local
Two weeks after being rescued, a four-year-old boxer is on the mend and is loved by animal lovers in the area.
Nicknamed Whiskey Tango Foxtrot, or Whiskey for short, the boxer is in the care of the Second Chance Animal Sanctuaries at Middlebury Center. Laura Clarson, director of the shelter, brought the dog to the Gazette office on December 30, 11 days after it was rescued.
The story began on December 19 when Whiskey, described by Clarson as extremely emaciated, arrived at a veterinary practice in Knoxville. The owners had taken her there, Clarson said, after someone saw her tied up in a garage and told the owners to seek treatment. A friend of the person who saw the dog contacted Clarson, who called the vet's office. She also alerted Krys Knecht, the Tioga County aid worker who is investigating reports of cruelty, neglect and animal abuse.
"This stuff happens," Clason said. "It's happening in our own backyard and we need to be aware of it and we need to talk about it. "
Clarson traveled to Knoxville, where she met the owners who turned the dog over to Second Chance.
At the time, whiskey weighed 36 pounds, almost 20 pounds lighter than it should. On a scale of one to nine, the vet rated her between one and two. The dog had muscle deterioration, bedsores from lying on the ground and an open sore on his buttocks.
Second Chance's first action was to perform diagnostic tests on dogs. She had fleas, worms, a rash on her muzzle, a urinary tract infection, and a raw patch on her chest. X-rays showed the dog had ingested floss and popcorn kernels.
But, Clarson said, there was no evidence of a medical issue that could have been causing his condition. Animal Rescue then began the work of restoring the health of Whiskey.
"We had to be very careful," Clason said. "At first, she ate five small meals a day. We reduced it to three meals a day. We were very careful about how much food and drink she ate and what she received until we knew she was going to be successful.
In the first week, Whiskey gained seven pounds and began to resemble a dog again rather than a skeleton covered in fur.
Despite what has happened, Whiskey, Clarson said, is a sweet-natured dog who enjoys people, car rides, and other dogs. She is curious and surprisingly strong, but may require obedience and training at home. During her recovery, she took on the role of the shelter's mascot, greeting people who visit
"We don't think there will be long term effects. It appears that she should make a full recovery, although she will likely still need to have her food intake monitored. Because she was hungry, they are usually too anxious to eat, "Clarson said.
Second Chance and the Humane Center of Tioga County shared the Whiskey story on Facebook, which went viral. Over 32,000 people have viewed the post. Second Chance had raised nearly $ 3,000 as of December 31, and the Humane Center has received an additional $ 2,000 to investigate its case. Buster's Paw Pals sells t-shirts
"Our goal now is to get her back to good health and to try to make sure that stuff doesn't keep happening to other animals," Clarson said.
The refuge has also received more than a dozen applications from people wishing to adopt Whiskey. Clarson is confident that one of these apps will be selected by the time Whiskey is ready to go, possibly within the next month. While this dog may have attracted attention, there are many other animals that deserve a forever home, Clarson said.
"There are so many people who want to adopt him and ignore the other dogs who need a home," she said. "All dogs need and are equally worthy of a home."
The investigation of a criminal case is continuing. For more information, check out the Second Chance Animal Sanctuaries Facebook pages or the Humane Center of Tioga County or call Second Chance at 570-376-3646 or the Humanitarian Officer at 484-241-5650.